While fighting blemishes can be tough, these eight LUSH products for acne are even tougher! Whether you're looking for a stellar spot treatment, a refreshing toner, a soothing mask or another type of outstanding product, LUSH surely has a fresh solution that's right for you. Ready to have fewer breakouts and clearer skin? Give these LUSH products for acne a try, and you'll be well on your way!
---
1

Grease Lightening Cleanser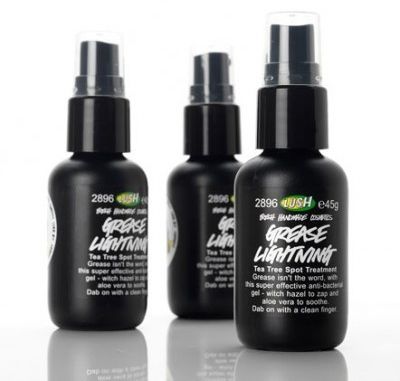 One of my all-time favorite LUSH products for acne is the Grease Lightening spot treatment, which uses a thyme, tea tree and rosemary blend to help banish blemishes. Grape juice also plays a role in keeping spots dirt-free, while the gel-based formula helps control oil. Smooth some on, and get ready to kiss those stubborn breakouts goodbye!
This stuff is perfect for cleansing skin and drawing out impurities.
---
2

Herbalism Cleanser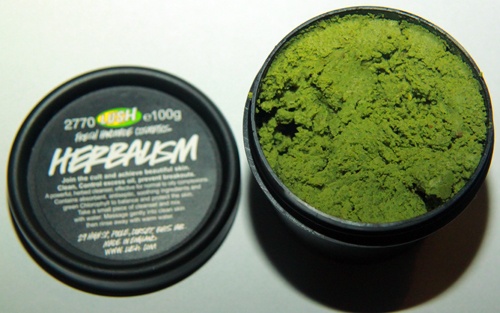 Yet another all-star cleanser is LUSH's Herbalism, which uses rosemary, nettle, chamomile and kaolin to decongest your pores and clear blemishes. Give it a try, and you'll easily see why this product has earned a reputation as LUSH's most effective cleanser for oily skin. Want even better results? Use it and the Grease Lightening treatment together.
You can count on the rosemary to cleanse your skin and the chamomile to soothe it.
---
3

Cup of Coffee Face and Body Mask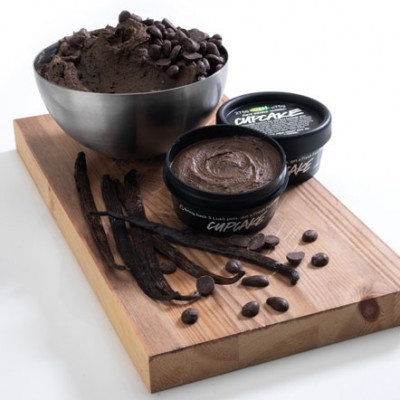 If you're prone to acne on your body in addition to your face, kill two birds with one stone by using this fantastic mask all over. It has a fresh coffee scent and will wake you up while it clears your pores and encourages your healthiest skin ever. The coffee exfoliates and the kaolin provides an ultra-deep clean.
Clear your pores and get beautiful skin with this coffee scented body mask.
---
4

Angels on Bare Skin Facial Cleanser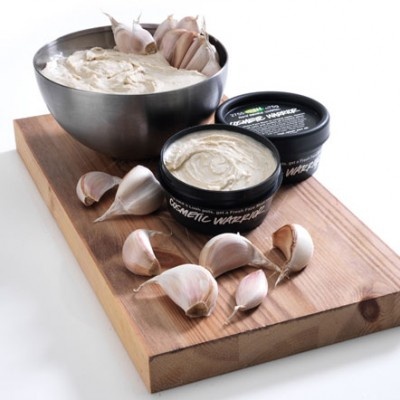 This cleanser is perfectly formulated to balance your skin so it's less prone to acne and breakouts. All natural ingredients like kaolin clay and almond powder exfoliate your skin for clear pores and a clean you won't find anywhere else. The all natural ingredients are those you can feel great about using.
---
5

Vanishing Cream Moisturizer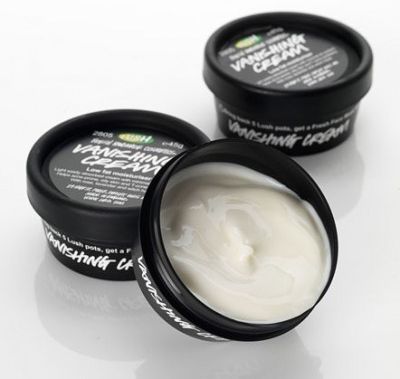 Think having blemish-prone skin means you don't need to moisturize? Wrong, since letting your skin become overly dry can actually lead to excess oil production. LUSH's Vanishing Cream, the brand's lightest moisturizer, comes complete with an infusion of witch hazel to help banish breakouts, along with lavender absolute to provide balance. Try it out for a moisturizer that will keep breakouts at bay without weighing you down.
Use this vanishing cream to moisturize your skin and erase blemishes at the same time.
---
6

Tea Tree Water Toner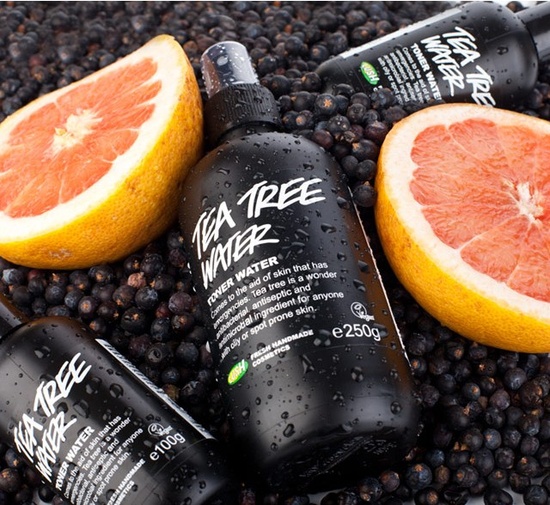 The perfect blemish-fighting toner, LUSH's Tea Tree Water relies on tea tree oil to help eliminate bacteria, while grapefruit and juniper water also help control oil production. The best part? This alcohol-free blend is incredibly refreshing and non-irritating for sensitive skin.
Use this non-irritating toner to fight acne and get a gloriously clear complexion.
---
7

Tea Tree Toner Tab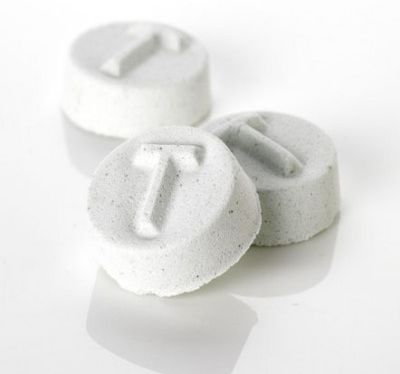 Prefer to stream-treat your blemishes instead? All you need is a bowl of hot water and a LUSH Tea Tree Toner Tab to do just that in no time. Once you're done, you can even chill the leftover liquid in your refrigerator for up to two days and repurpose it as toner water.
These handy tabs let you tone and refresh anywhere, anytime.
---
8

Whoosh Shower Jelly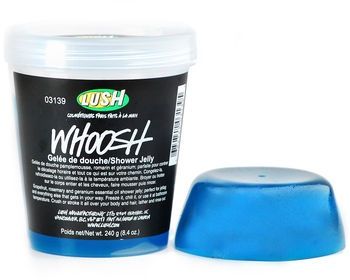 Since blemishes don't only occur on your face, LUSH's Whoosh is designed to help keep the rest of your body breakout-free, as well. While the blend of lemon, lime, rosemary and geranium helps awaken you, grapefruit juice will also keep acne from wreaking havoc on your skin. Use it daily for a refreshing pick-me-up!
Keep your entire body breakout free by using this wonderful shower jelly every day.
---
9

Imperialis Perfectly Balancing Lavender Cream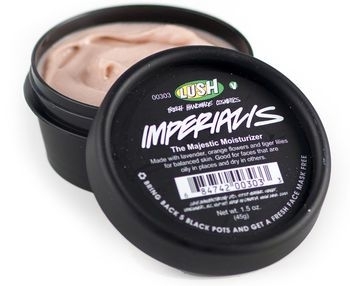 If you're not sure which moisturizer is the one right for you, try starting off this one. It's made with lavender infusion and works with your skin to ease and soothe any irritations. The lavender also encourages dry skin to produce more natural oils while discouraging oily skin from overdoing it.
Moisturize your skin without clogging pores with this fantastic cream.
---
10

Dark Angels Velvety Black Sugar Cleanser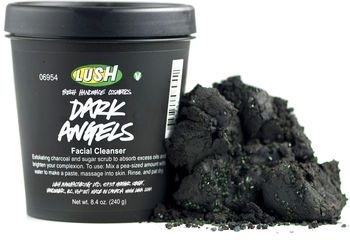 This is a must-have. If you have dull, oily or acne-prone skin, the black sugar and charcoal will exfoliate and absorb any excess oils to leave your skin feeling fresh and matte. The rhassoul mud base in it deep-cleanses to help prevent breakouts while organic avocado oil nourishes your skin to leave it soft and hydrated.
Scrub away impurities for perfectly clear skin with this facial cleanser and exfoliator.
---
11

Coalface Cleansing Charcoal Bar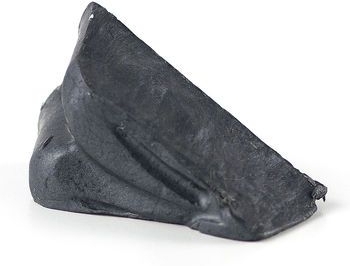 This is definitely one-ups the old-fashioned bar of soap, right? The powdered charcoal absorbs excess sebum and acts as a mild exfoliation while rosewood and sandalwood oils reduce redness and clears up blemishes. Use the bar daily to maintain clear and balanced skin.
Remove toxins and debris from your face for fabulously clear pores all day long.
---
12

Mask of Magnaminty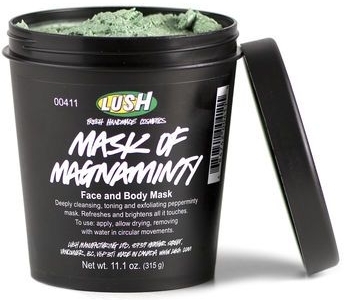 This mask isn't made for daily use because it's actually a deep cleansing face mask. China clay and fresh peppermint pull the debris from your pores while aduki beans exfoliate flaky or dry skin. The vanilla absolute calms redness and the honey soothes your skin! Use it weekly to keep your skin looking good and pimple-free.
You can count on the clay and peppermint in this mask to keep your skin clear and clean.
---
13

Ocean Salt Cleanser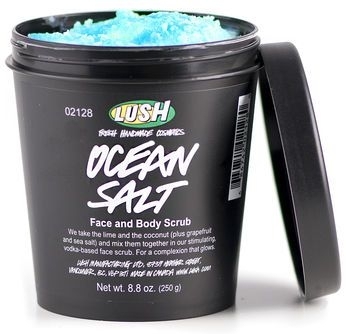 This is one of LUSH's most popular products. The minerals in the sea salt soften as it scrubs away the dirt, dead skin and blockages in your skin for a bright, fresh face. The fresh avocado and coconut is used to hydrate your skin while the cleansing effects of lime and vodka deal with your blocked pores, blackheads and blemishes to leave your skin visibly brightened!
Use the minerals in this sea salt product to clean and clear your pores for fresh skin.
As you can see, these thirteen LUSH products for acne are powerful, effective and a great addition to your breakout-fighting arsenal! Have you given any of these fabulous items a try? Are there any others that have also helped eliminate blemishes and clear your skin?
This article was written in collaboration with editor Vanessa Salles.
More
---
Comments
Popular
Recent