Since my very first chocolate-chip cookie shower gel more than a decade ago, I've been a fan of Philosophy's skincare and beauty products. Can you blame me? They're opulent and they smell divine, so what more could a girl ask for? If you haven't tried their products yet, you really should… and if you don't know where to start, I can help! Here are 7 great skin care sets by Philosophy.
---
1

Philosophy the Microdelivery in-Home Vitamin C Peptide Peel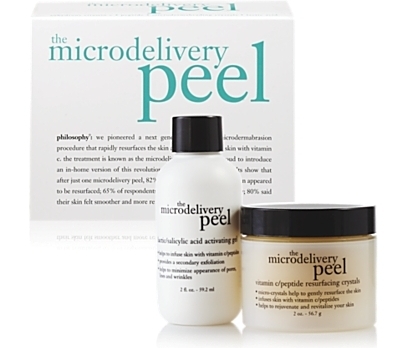 Price: $65.00 at philosophy.com
Looking for an instant in-home pick-me-up for your skin? This is the set for you, my dear! It features a two-step process, working together to exfoliate, rejuvenate and gently resurface your skin so it's softer and more radiant… and it even helps diminish fine lines… yes!
2

Philosophy Amazing Grace Perfumed Hand Wash and Lotion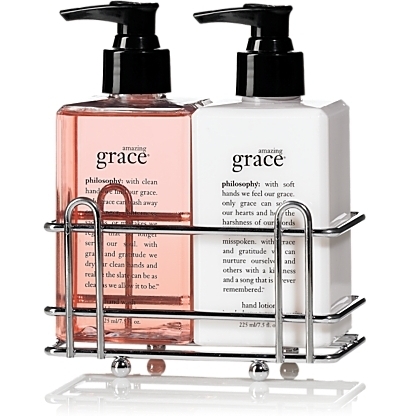 Price: $35.00 at philosophy.com
This is one of my favorite Philosophy scents, the Amazing Grace, and this set is a great way to work it into your everyday routine. The set includes a hand wash to gently cleanse your hands, and a lotion to moisturize and protect them, together in a chrome carrier.
---
3

Philosophy the Joy of Great Skin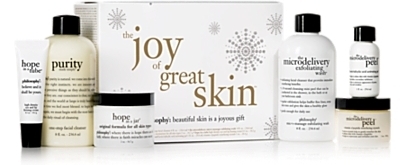 Price: $85.00 at philosophy.com
We all want to experience the joy of great skin, and, as the name of this set implies, everything you need for it is inside. The set includes some of my most favorite potions: the Microdelivery exfoliating wash, Purity Made Simple cleanser, Hope in a Jar moisturizer, Hope in a Tube lip and eye firming cream, and the Microdelivery in-home peel. What a wonderful introduction to the Philosophy skin care line!
---
4

Philosophy Beach Girl Set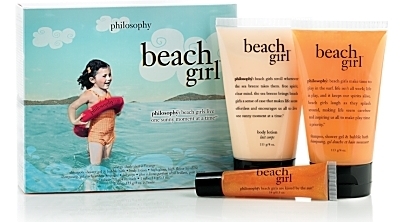 Price: $25.00 at philosophy.com
Celebrate fun in the sun any time of year with this lush, divinely-scented set, containing one 3-in-1 shampoo, shower gel, and bubble bath, one body lotion, and one lip shine, all in the Beach Girl scent. It can make even the greyest, chilliest winter day feel a little warmer, a little brighter.
---
4

Philosophy Just Because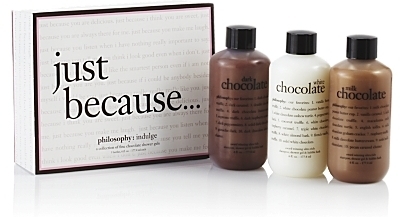 Price: $30.00 at philosophy.com
Whether you prefer white, dark, or milk chocolate, this set is made for you, with one 6-ounce bottle of each lush scent in the 3-in-1 shampoo, shower gel, and bubble bath. It's a great gift for a friend, especially a known chocoholic!
---
6

Philosophy Oh Lolli Lollipop Set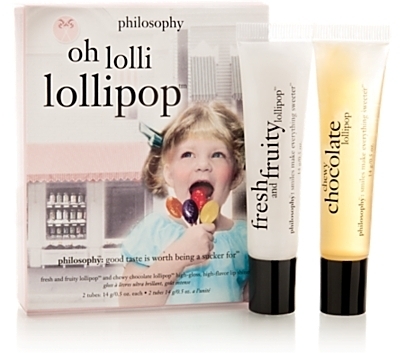 Price: $18.00 at philosophy.com
Nourish and protect your delicate pucker with this duo of lush lip shines, one in fruity lollipop and the other in rich chocolate lollipop. Both are highly scented and flavored, so you'll feel like you're indulging in a sweet treat without the extra calories, while keeping your lips moist and supple.
---
7

Philosophy on a Clear Day Skin System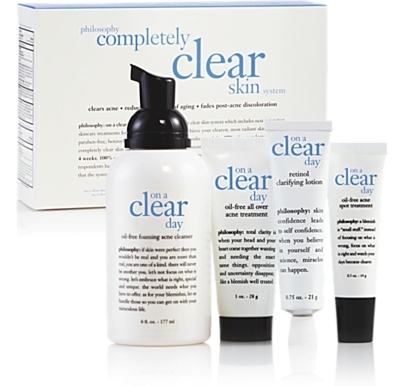 Price: $65.00 at philosophy.com
If you're prone to break-outs or you have sensitive skin, this is a great set to start with. It clears and prevents blemishes, with an oil-free cleanser, spot treatment, all-over treatment, and retinol clarifying lotion. All four products are paraben and benzoyl-peroxide-free, and they all work beautifully to give you smooth, blemish-free skin.
These are just a few of the marvelous sets to get you started, and quite possibly hooked, on Philopshy's line of skin care products. I use and adore them all… and I'm always excited to try one of their new ones, too! Are you a fan of Philosophy already? If so, which product do you like best…and if not, which do you think you'll try first?
---
Popular
Related
Recent