Beautiful Bar Soaps are kind of my thing. I just love finding a bar that's both lovely and actually functional. In a world where most of us prefer body wash over bar soap, once in a while it is nice to buck the trend and buy beautiful bar soaps, something that smells divine, makes your skin soft and supple, and looks pretty on your vanity. There are so many to choose from though, how do you know which are worth the money, and which are just a gimmick? I can help. Here are 7 beautiful bar soaps, all of which are Jen-approved.
---
1

Murphy and Daughters Bon Bon Soap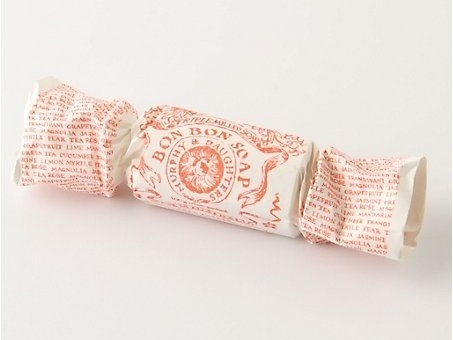 Price: $7.95 at anthropologie.com
Aren't these little bar soaps just darling? They're wrapped in paper to look like tasty little bon-bons, but inside, they're actually lush, beautiful bar soaps. They come in four marvelous scents — lime, milk, tea rose and pink grapefruit and they're made with shea butter to soften even the driest, roughest skin.
---
2

Kio Kio Soap Bar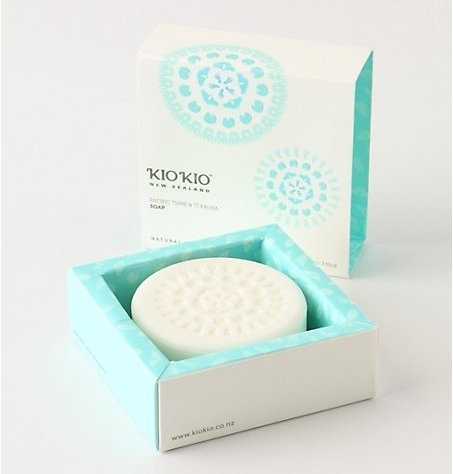 Price: $15.00 at anthropologie.com
Go organic and exotic with these three beautiful bar soaps by Kio Kio. They use natural organic, sustainably-harvested plants and extracts from New Zealand. All three scents are gorgeous and unique, but I like the Rainforest & Koromiko. It smells so fresh and green!
Trendinig Stories
More Stories ...
3

Grove New York Soap
Price: $9.00 at anthropologie.com
This is a manly smelling but still beautiful bar soap, one that your sig other or male guests will appreciate. It has distinctly citrusy undertones along with a hint of rum. It can replace your man's cologne, but if he still wants to wear his usual scent, no worries — the bar soap won't interfere with his cologne.
---
4

Mistral Shea Butter Soap
Price: $7.00 at anthropologie.com
Available in five fresh, sweet scents, this bar soap is hand-made in France by actual perfumers, so each is just as lovely as you would think. I adore the coco lime scent! It's fresh and appealing but not overpowering, and it's slightly tropical, but not over-the-top.
---
5

Peacock Republic Face & Body Bar Soap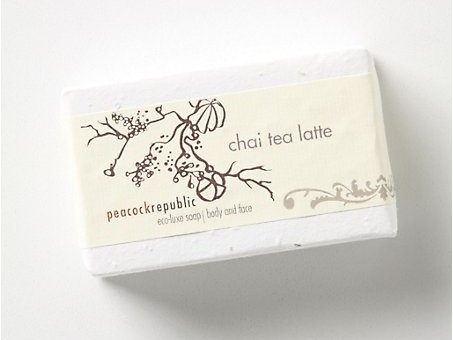 Price: $9.00 at anthropologie.com
This soap is beautiful in so many senses of the word. First, the bar soap itself is formulated to be gentle but effective at cleaning your entire body, head to toe. Second, for every bar of soap sold, the maker donates a bar to those in need. And last but certainly not least, the gorgeous package the soap comes in is even better than biodegradable: it's infused with wild-flower seeds, so when you plant it, it breaks down and spreads color and joy.
---
6

Beekman 1802 Soap Bar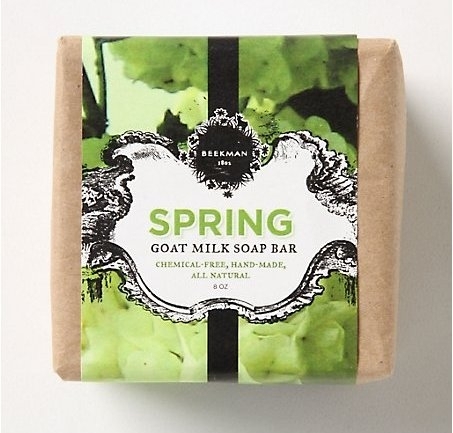 Price: $10.00 at anthropologie.com
This beautiful bar soap is designed with a gardener's hands in mind. It's made with poppy seeds to exfoliate dry, dirt-loving hands, and soy, coconut, and olive oils to soothe and hydrate. There are two other seasons available, too, but I love the Spring!
---
7

Soap & Paper Factory Shea Butter Soap
Price: $8.00 at anthropologie.com
Inside its eco-conscious wrapper or out of it, this soap is beautiful, too. It comes in three scents, each one soft and sweet and charming, ideal for adding scent to your guest bath as well as to your skin. The Bella version is my favorite, tangy and spicy!
With so many beautiful bar soaps to try, you have enough here to last until the end of the year, for sure! Not all beautiful bar soaps have to be purely for show, like those odd little soaps that end up in baskets on the sink, strange smelling and not really usable. Clearly, there are lots of beautiful bar soaps that smell lovely, look sweet, and work divinely! Try a new one when the other wears out, and see which you like best. Or perhaps you've already tried some of these… if so, which is your favorite, and why?
---
Popular
Related
Recent