Do you use separate sunscreens for your face and body? I used to use the same sunscreen for my face and body and noticed it was a little thicker than I'd like to use on my skin. So, if you have acne-prone skin or just want to use a lighter version of sun protection on your face, look for some of these high-quality sunscreens for your face!
---
1

Shiseido Ultimate Sun Protection Lotion+ Broad Spectrum SPF 50+ for Face/Body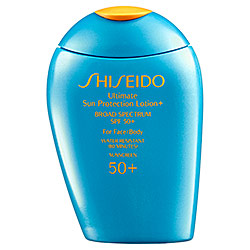 I know we're strictly talking about sunscreens for your face but Shiseido made an amazing non-greasy sunscreen for both your face and body! This baby has a broad spectrum SPF 50 and is made with rose apple leaf extract to fortify your skin against damage. It also provides antioxidants to fight off free radicals!
---
2

Peter Thomas Roth Instant Mineral Powder SPF 45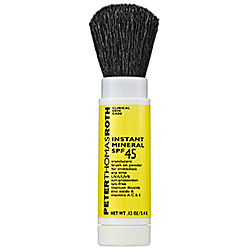 One of the most inconvenient things about cream sunscreen is that it's near impossible to reapply once you've applied makeup. But with PTR's mineral powder sunscreen, you can easily reapply sunscreen throughout the day and it helps keep your skin matte! If other types of sunscreen tend to break you out, try using a powder formula!
3

NIA24 Sun Damage Prevention SPF 30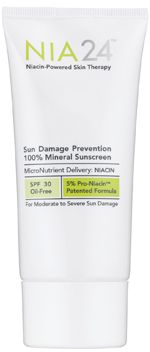 NIA24's oil-free sunscreen is made of minerals and instantly absorbs, improves skin tone, brightens skin and contains physical sunscreens. Count on ingredients Titanium Dioxide and Zinc Oxide for broad spectrum protection from the sun's harmful rays. Just as its name implies, use this to prevent sun damage and keep skin healthy!
---
4

Neutrogena Clear Face Sunscreen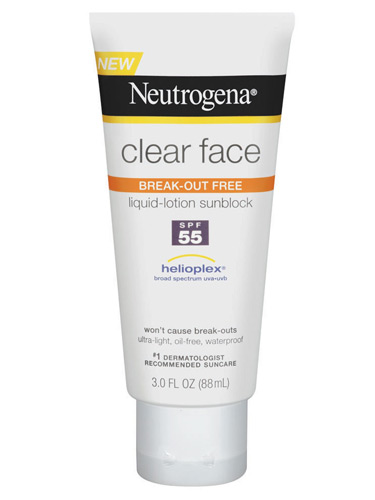 Neutrogena is one of the most popular skin care brands and their face sunscreen promises not to cause breakouts! If you're worried about your pores getting clogged or getting more breakouts from sunscreen, worry no more, this product was made for acne-prone skin! This formula is oil-free, waterproof and lightweight so your skin can breathe easy!
---
5

Supergoop! save Face a.M. Moisturizer SPF 35+with Advanced UV Protection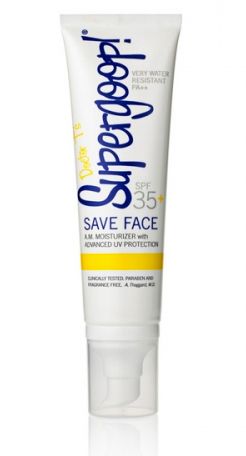 Supergoop! products aren't exactly cheap so I was super excited when I got my hands on some samples of it. Now I see why there is so much hype behind this product, it's pretty awesome. This feels like more of a moisturizer than a sunscreen, it's very lightweight, easily absorbed and contains lots of anti-aging ingredients so it's perfect to wear under makeup!
---
6

L'Oreal Paris Sublime Sun Advanced Sunscreen for Face SPF 50+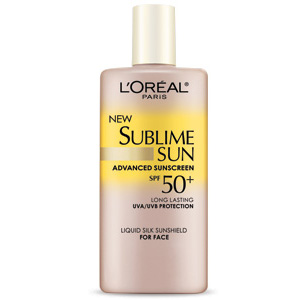 Another excellent budget-friendly face sunscreen is from L'Oreal. This sunscreen is made to feel super light, fast-absorbing and leave a nice matte finish. It offers broad spectrum protection while feeding your skin with vitamins, antioxidants and white grape seed to keep skin looking youthful and fresh. It's also oil-free, water and sweat resistant as well as non-pore clogging, making it great for acne-prone skin.
---
7

AVEENO Smart Essentials Daily Nourishing Moisturizer Broad Spectrum SPF 30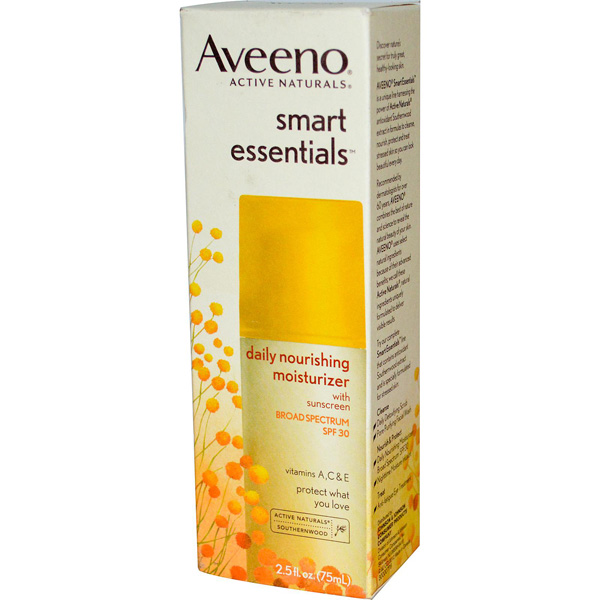 This face sunscreen is on the pricier side for being a drugstore brand but from what I hear, it's worth it! This oil-free sunscreen is hypoallergenic and non-comedogenic, making it very mild. It also helps keep skin protected, nourished and helps restore your skin's moisture barrier for soft, smooth skin.
---
8

Murad Age Proof Oil-Free Sunscreen Broad Spectrum SPF 30/PA+++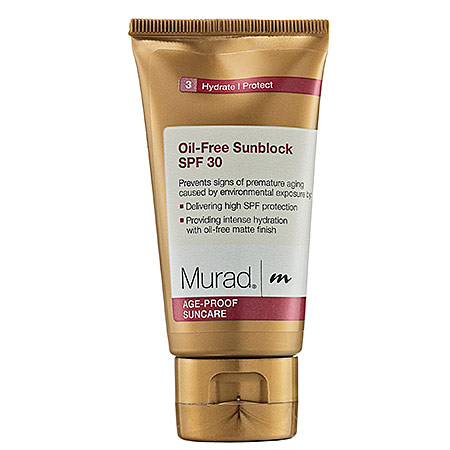 Murad's oil-free sunscreen offers broad spectrum protection against the sun and a boatload of minerals and extracts for soft skin. Keep skin healthy and happy with this lightweight formula that was developed by dermatologists to keep skin looking young and restore its healthy appearance. The micro-minerals provide a smooth matte finish that's perfect over or under makeup!
---
9

Neutrogena Sensitive Skin Sunscreen Lotion Broad Spectrum SPF 60+

While many face sunscreens are formulated to be suitable for various skin types, this one was made especially for babes with sensitive skin. If you have trouble finding a sunscreen that won't irritate your face, try this out! It contains naturally sourced physical sunscreens, a high SPF and is hypoallergenic, oil and fragrance-free!
If you're in the market for a new face sunscreen, be sure to check these puppies out! Some sunscreens that are made for your body can leave a white cast on your face or they can leave your skin looking dewy. All of these sunscreens were made for your face and should enhance your beautiful skin! Do you use a separate sunscreen for your face?
---
Comments
Popular
Related
Recent