Organic sunscreens may be hard to find, but they're worth every penny, because they're so much better for your skin, providing protection from the sun without harsh chemicals. I have a whole list of organic sunscreens I like best, and here are my top picks! These are my 8 favorite organic sunscreens, all available at Sephora, so they're all easy to buy!
---
1

Ole Henricksen Truth Revealed Super Crème SPF 15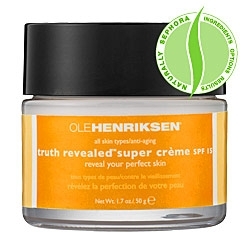 Price: $65.00 at sephora.com
Looking for an all-natural way to keep your skin looking youthful, hydrated, and glowing? Then this is the multi-tasking crème for you, and as an added bonus, it features a built-in SPF 15, helping you reveal your perfect complexion, without risking damage from the sun.
2

Korres Quercetin & Oak anti-Ageing & anti-Wrinkle Day Cream SPF 4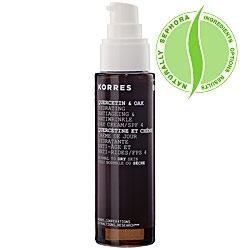 Price: $48.00 at sephora.com
If retinol doesn't seem to be doing the anti-aging trick, you might want to try this, the latest and greatest in day creams, made with Quercetin & Oak, proven to be just as effective (although slightly different than) retinol. It also includes a built-in SPF 4, providing a hint of sun protection, made with all-natural organic ingredients.
---
3

Lavanila the Healthy Sun Screen SPF 40 Face Cream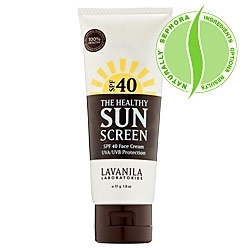 Price: $28.00 at sephora.com
Worried about what the harsh chemicals in other sunscreens might be doing to your skin? Then treat yourself to a bottle of this face cream with SPF 40 broad-spectrum sun protection, made without the nasty chemicals. It's non-comedogenic, and loaded with antioxidants… this may be the ultimate multi-tasking organic sunscreen!
---
4

Jurlique Sun Lotion SPF 30+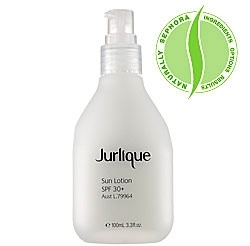 Price: $58.00 at sephora.com
Get the protection of SPF 30+ across the UV spectrum with this organic sunscreen. It's designed to be gentle, but effective, protecting your skin from sun damage without drying or clogging pores.
---
5

Korres Yoghurt Cooling Gel

Price: $23.50 at sephora.com
If you do ever get a sting from the sun, treat it with this ultra-rich, ultra-soothing cooling gel. It's made to refresh and invigorate your skin, while taking the sting out of your sunburn. Protip: use this after sun exposure, even if you're not burned, for a pick-me-up!
6

Caudalie Vinexpert Riche Radiance Day Cream SPF 10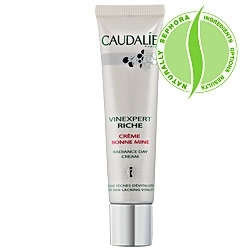 Price: $68.00 at sephora.com
Resveratrol is the new miracle ingredient, found in grapes, proven to make skin younger-looking and radiant. Get a dose of it in this day cream, formulated with a built-in SPF 10 for added protection against the sun's harmful, damaging rays.
---
7

Carol's Daughter Gelee De Soleil Browning Oil with SPF 15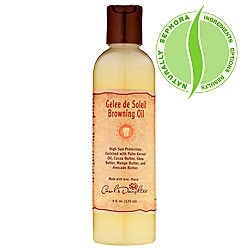 Price: $15.00 at sephora.com
What if you want the look of a tan, without the ill effects of an actual sun-based tan? Try this rich, all-natural organic sunscreen, loaded with palm kernel oil, cocoa, shea, mango, and avocado butters, all working together to give you a healthy summer glow. Also included? An SPF 15, to keep that glow healthy and free of sun damage!
---
8

Boscia Restorative Day Moisture Cream SPF 15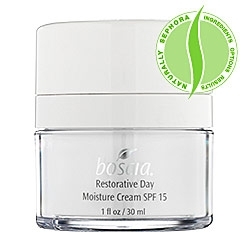 Price: $48.00 at sephora.com
I love the idea of a day cream that protects my skin against sun damage while helping repair past damage… and that's exactly what this cream does! It provides SPF 15 protection and also diminishes the look of fine lines and sun spots.
While this is just a sampling of the organic sunscreens you can buy, these are my own tried-and-true favorites, especially the ones by Korres. They're completely worth the money, and you simply must try them! Have you tried any of these organic sunscreens? If so, which do you like best? Please share!
---
Comments
Popular
Related
Recent