When you mention "facial oil," people instantly think they're going to break-out or their pores will clog from the oils. On the contrary, facial oils (which have been around for some time in the beauty world), are now making a come-back due to their lightweight, moisturizing, free-radical protection. They're also less irritating than some moisturizers out there, and they claim to instantly hydrate the skin as they can penetrate deeper than regular moisturizers. Because oils are lipophilic, or fat loving, they pass though the lipid layer of the skin faster, preventing water loss and plumping skin with moisture more effectively. Make sure that one of these facial oils forms a part of your daily skincare regimen – no matter what your skin complaint.
---
1

For Smoother Skin Try Kiehl's Famous Midnight Recovery Concentrate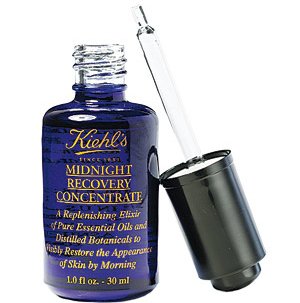 I recently stepped into a Kiehl's boutique, and was given a sample of their Midnight Recovery Concentrate. After one use, I loved this product so much, that I returned to purchase it. This oil gets rave customer reviews because it is made with distilled botanical oils (lavender, evening primrose, jojoba, etc.) that restore your skin come morning time. Its lightweight treatment effectively restores skin's healthy appearance overnight, leaving your complexion smoother and more radiant by morning. I've always been a proponent of applying skincare products at night (when your body's in repair mode and your circadian rhythms are at their peak) and Kiehl's Midnight Recovery Concentrate works to penetrate your deepest epidermal layers at nighttime. Priced at $46 for 30 ml from Kiehl's boutiques and department stores. kiehls.com
---
2

Origins Plantscription Youth Renewing Face Oil Will Make You Look Youthful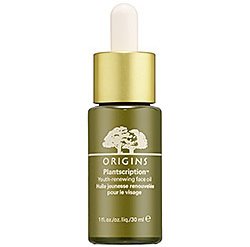 This facial oil contains up to twenty different kinds of oils, including argan oil. If you enjoy using oils on your face, this one is pretty absorbent and it is meant to smooth fine lines and add youth-renewing lipids which deplete with age. Priced at $49.50 for 30 ml, at Origins boutiques, department stores and beauty emporiums, like Sephora and Ulta. origins.com
---
3

Pamper Your Face with Fresh's Seaberry Moisturizing Facial Oil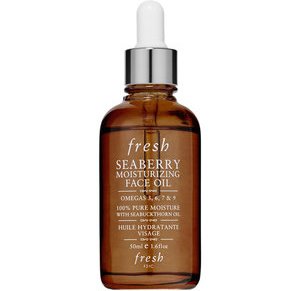 One of the latest products from the natural skincare line, Fresh comes Seaberry facial oil. Seaberry oil, also known as Seabuckthorn oil, is a powerful antioxidant rich in moisturizing omegas 3, 6, 7 & 9 noted for protecting the skin from aging free radicals. Containing cranberry seed, camellia, grapeseed and sweet almond oils, many who've tried this powerful antioxidant blend stated that their skin feels nourished, refreshed and hydrated for 24 hours. That's quite the claim! Priced at $50 for 50 ml, find this at Fresh boutiques and beauty emporiums, like Sephora and Ulta. sephora.com
---
4

If You're Looking for Some anti-Aging Treatment Look No Further than Tarte Maracuja Oil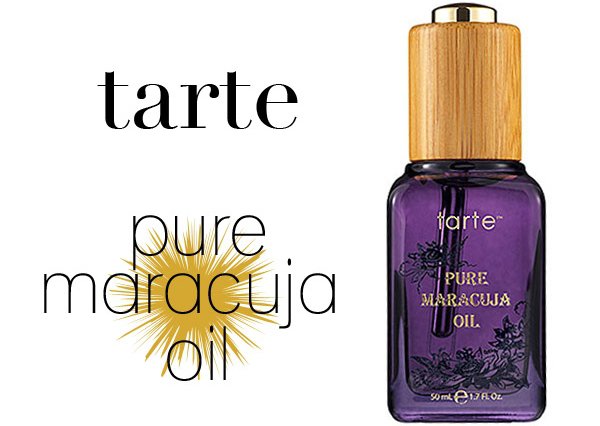 Travel size, roller ball and large sizes are available of this Amazonian nutty oil (complete with essential fatty acids known to recharge and rejuvenate your skin)! This facial oil will even-out and brighten your skin tone, due to the high potency of Vitamin C contained within. The Amazonian superfruit is sustainably harvested and the seeded pulp is extracted from each maracuja fruit before being hand pressed to ensure the essential fatty acids remain in the oil. Available directly from Tarte and beauty emporiums like Sephora and Ulta, priced at $48 for 50 ml. tartecosmetics.com
---
5

Beautify Your Skin with Boscia Tsubaki Beauty Oil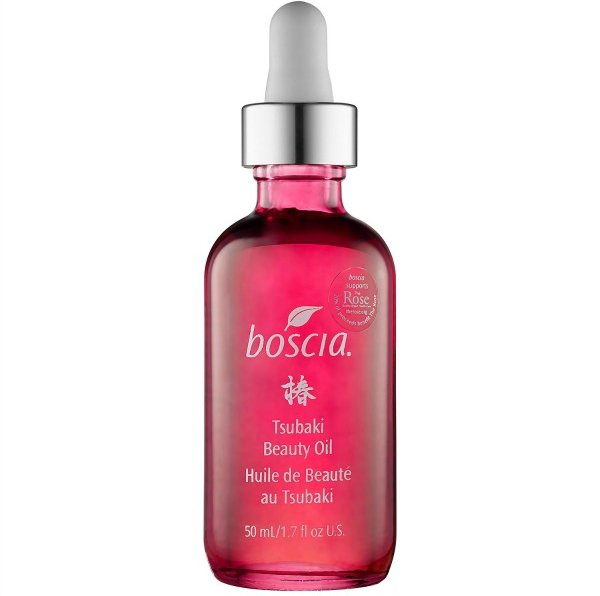 If you've never tried anything from the Boscia product line, then this could be the Boscia product to sample. This beauty oil prevents premature signs of aging by defending the skin against free radical damage with soothing Wakame (Japanese sea kelp), known to repair damage by replenishing proteins and supporting the skin's natural collagen production. Rice bran oil restores the natural glowing, gorgeous complexion with its lightweight, non-greasy texture. Available from Sephora and department stores at $46 for 50 ml. sephora.com
---
6

Balance Uneven Skin Tone with Jurlique's Skin Balancing Face Oil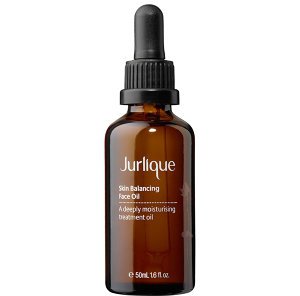 Facial oils can be a great supplement to your daily moisturizer and serum regimen, particularly if you have dry, flaky, or patchy skin and are in need of some added hydration. This lightweight oil contains Safflower, Rose Hip, Avocado and Macadamia Oils all designed to deeply moisturize, restore suppleness and elasticity, as well as balance out uneven skin tone. Added Vitamin E (Tocopherol) protects against environmental aggressors. Available directly from Jurlique's website for $50 (50 ml) and other websites like Amazon and Net-A-Porter. jurlique.com
---
7

For Bronze Glowing Skin Try St. Tropez's Self Tan Luxe Facial Oil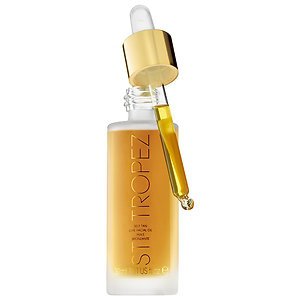 I couldn't complete my list without this fun, facial oil that will give you that "all-natural" summertime glow. This is a facial oil you should sample, even if you don't naturally reach for those self-tanning products. It isn't greasy, doesn't leave that "fake tan" smell, and the bronze effect lasts for seven days. Priced at $35 for 30 ml, you can purchase this at beauty emporiums like Sephora, Ulta and direct from St. Tropez's website. sttropeztanonline.com
One thing to consider with beauty products like facial oils is their shelf life (oils typically last between 3 and 12 months). Do you use facial oils? Which one of these beauty oils will you be sampling soon?
More
---
Comments
Popular
Recent