Nowadays, we're not happy unless we're multi-tasking, and we want that same level of commitment from our skin care products, too. Our moisturizer can't just keep our skin hydrated and happy, it's got to provide protection from the sun, too! If you're been looking for a multi-tasking moisturizer, but aren't sure where to start, I can help! Here are a few great moisturizers with SPF.
---
1

Philosophy Hope in a Jar with SPF 25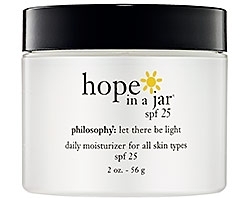 Price: $15.00 to $38.00 at sephora.com
This is my favorite moisturizer, with an added SPF bonus. It's truly the same one I use every day, no different than the standard, but I use this one because it provides protection from the sun on days when I'm rushed and don't have time to add a separate one… and it's SPF 25, which is better than most add-ins!
---
2

Boscia Oil-Free Daily Hydration SPF 15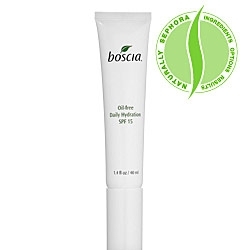 Price: $36.00 at sephora.com
If you already have acne-prone skin, you know what a greasy moisturizer can do to your skin! That's why Boscia makes this lush oil-free moisturizer. It's light-weight but effective, and it won't clog your pores! Better still, it includes sun protection in the form of a built-in SPF 15.
---
3

Algenist Regenerative anti-Aging Moisturizer SPF 20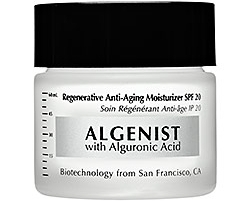 Price: $90.00 at sephora.com
I'd never heard of alguronic acid, either, until I first saw this product! It's the only moisturizer on the market with the algae-based ingredient, which works to prevent wrinkles. Add to that the built-in SPF 20, and you'll have healthy, younger-looking skin ages!
---
4

First Aid Beauty 5 in 1 Face Cream SPF 30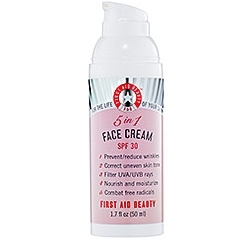 Price: $38.00 at sephora.com
This moisturizer is the ultimate multi-tasker, with a built-in SPF, antioxidants, and more. It protects your skin from the sun and from free radicals, it provides hydration and soothes your skin, and it also fights wrinkles. Wow!
---
5

DDF Protect and Correct UV Moisturizer SPF 15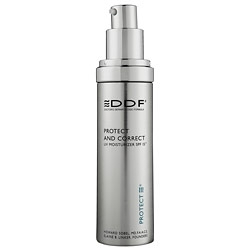 Price: $60.00 at sephora.com
I adore the entire line of DDF moisturizers, though they can be pricey. But you get what you pay for, and this moisturizer with SPF is no exception. It smells a little odd, but the scent dissipates quickly, and it won't interfere with your perfume.
---
6

Clinique Even Better Skin Tone Correcting Moisturizer SPF 20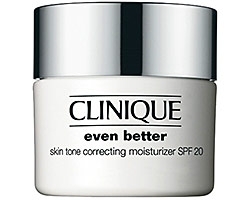 Price: $42.50 at sephora.com
This was the first moisturizer with SPF I ever tried, and though I loved it, I have to admit I don't use it anymore. There's nothing wrong with it — it provides non-greasy hydration along with the built-in protection of SPF 20 … I just prefer Hope in a Jar for its anti-aging capabilities!
7

Juice Beauty Green Apple Moisturizer SPF 15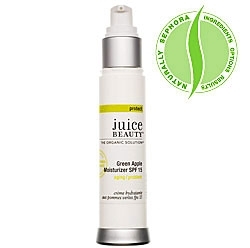 Price: $38.00 at sephora.com
The name of this moisturizer with SPF calls to mind lush, juicy fruits… so I have to try it! It's made with apple and lemon juices, which work together to hydrate and protect your skin, and help it look younger. I want to know how it smells!
These are just a few of the (literally) hundreds of marvelous multi-tasking moisturizers with SPF, but they're my faves, especially the Hope in a Jar by Philosophy. I love it, all year round! Which of these moisturizers with SPF do you like best, and why? Or did I forget to include your personal favorite? Please let me know!
---
Comments
Popular
Related
Recent