Philosophy create a great range of face, bath and body products that I simply love, so I thought it made sense to do this post and introduce you all to some great Philosophy products for your bathroom. Whether you are already a fan of the brand or are new to the range, these top 7 Philosophy products for your bathroom are must-haves and the perfect way to show your love for one of the best brands around - oh, and they all smell absolutely divine too!
---
1

Full of Promise Eyes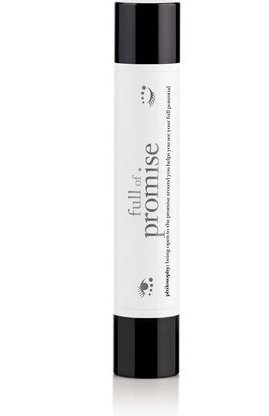 This new product is a 2-in-1 eye cream for both upper and lower eyes. It comes in a formula for days and nights and includes an upper-lid lifting gel and under-eye firming cream which work together to create fresher, more wide-awake eyes. I haven't tried this yet myself but it's one of the coolest Philosophy products for your bathroom and set to be a bestseller!
---
2

Purity Made Simple Cleanser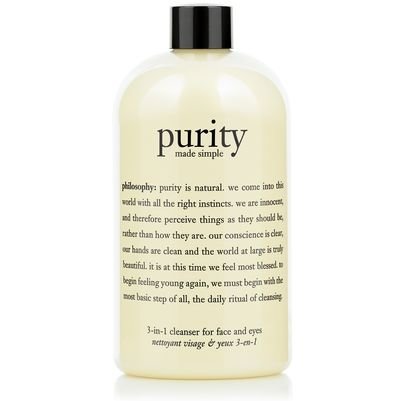 Marketed as a 'busy girl's cleanser', this is ideal for those of us who never seem to have enough hours in the day (so, that's all of us then!). It's so gentle and can be used on your face and eyes without irritation thanks to its fragrance free formula. Perfect!
---
3

Melon Daiquiri Shampoo, Shower Gel and Bubble Bath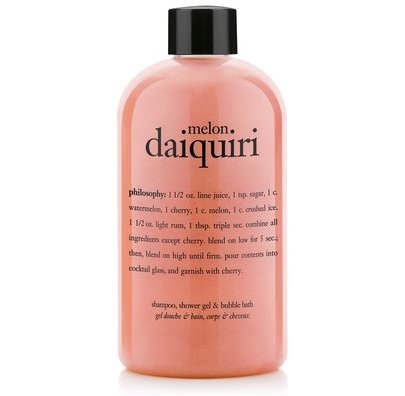 I love, love, love that you can use Philosophy bath products in the shower, bath or as shampoo. The smaller sizes are great for a multi-purpose product to take on your travels! This refreshing, summery scent is sure to make your bath time happy hour!
---
4

Senorita Margarita Shampoo, Shower Gel and Bubble Bath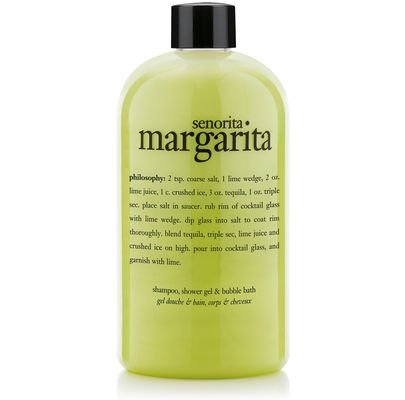 I'm sure I wrote about this scrumptious shower gel in another post I wrote recently, but it's just too good not to mention again! It's one of my bathtime favorites for the summer months and it gently cleanses and conditions your skin (and hair) with its refreshing sharp margarita scent. This product just smells so summery and the scent lingers all day long!
---
5

Falling in Love Firming Body Emulsion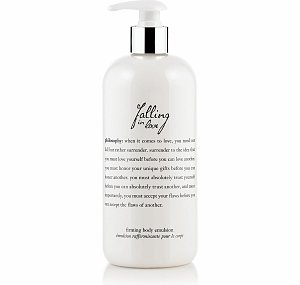 I love this fragrance so much and as well as the body lotion you can get it as a spray-on fragrance and shower gel - yay! This rich emulsion is ideal for dry skin yet it sinks in quickly - with its yummy scent of jasmine, vanilla and blackberries, you really will fall in love with it! The cute logo and packaging make this a must-have for any bathroom this summer.
---
6

The Great Mystery One Minute Daily Facial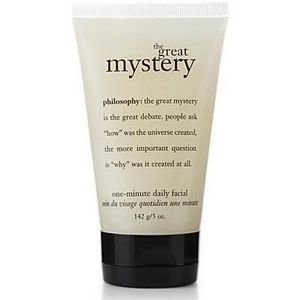 Mmmm I love this product! It's a gentle facial scrub that can safely be used every day (if you like). Deep cleansing and purifying, you can use it on your face, neck, chest and even your legs before shaving for a silky smooth finish! Natural sea salt provides gentle exfoliation and prevents irritation - this is one of the few scrubs my sensitive, redness prone skin will tolerate!
---
7

Miracle Worker Miraculous anti-Aging Cream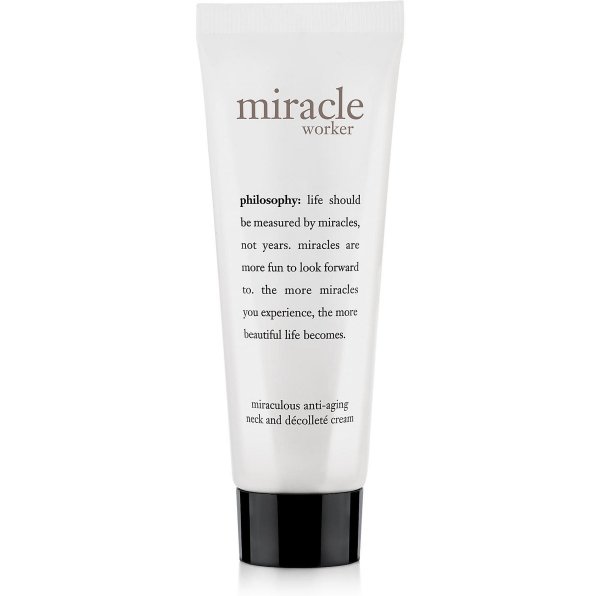 This anti-aging hand, neck and decollete cream is perfect if you're worried about signs of aging, and a luxurious treat even if you're not quite there yet! It brightens and evens your skin tone leaving it looking fresh and luminous (plus points!) whilst supporting collagen and elasticity to help skin look and feel firmer. It smells lovely and fresh too!
Now I'm just dying to go on a Philosophy shopping spree! I'd love to hear about your experiences with the brand and what your favorite products are - please share them with me!
More
---
Comments
Popular
Recent