The best natural serums give your complexion a radiant, healthy glow without any unusual ingredients and care for your skin the way nature intended. Serums are an essential part of my skin care routine because they deliver potent ingredients which are able to penetrate deeper than moisturizers. Once you try one of the best natural serums, you'll never want to go back to any other kind again!
---
1

One Love Organics Active Moisture Vitamin C Serum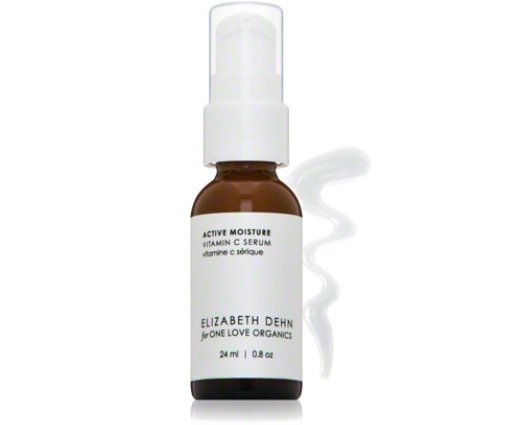 One of the most loved products on the list of best natural serums comes from One Love Organics. Their Vitamin C serum is formulated to help decrease the appearance of aging while conditioning your skin. You'll notice brighter, more even skin with continued use.
Price: $68 at dermstore.com
---
2

Burt's Bees Naturally Ageless Intensive Repairing Serum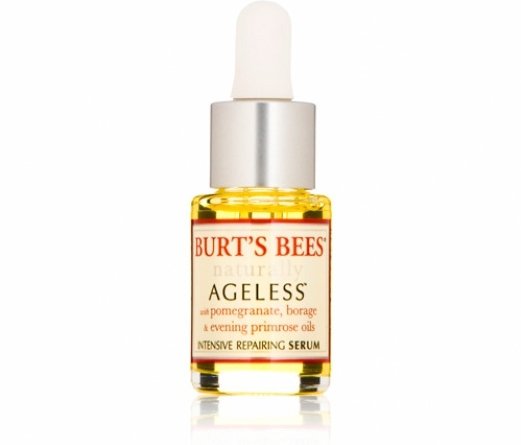 Burt's Bees proves that you can get good quality, natural skin care at an affordable price. Their Naturally Ageless Intensive Repairing Serum is minimally processed and helps soften the signs of aging while moisturizing and enriching your skin with nourishing ingredients.
Price: $25.85 at soap.com
---
3

Tata Harper Rejuvenating Serum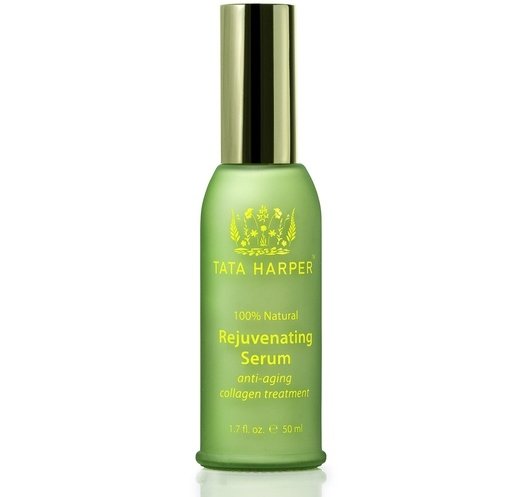 If you're looking for a multi-tasking skin care product, Tata Harper's Rejuvenating Serum is all that a bag of kale chips provides! This serum is packed with 29 active natural ingredients that helps reinforce collagen production, reduce the signs of aging, minimizes the appearance of enlarged pores and hydrates your skin to the high heavens.
Price: $95 at sephora.com
---
4

JUICE BEAUTY Stem Cellular Repair Booster Serum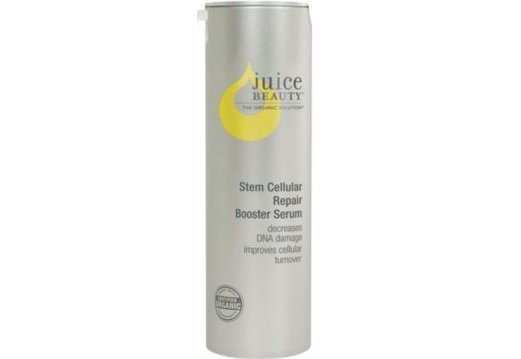 JUICE BEAUTY's Stem Cellular Repair Booster Serum takes natural skin care to another level with its vitamin and fruit stem cell packed formula. Fine lines, wrinkles, uneven skin tones and sun damaged skin don't stand a chance against this all natural yet highly effective serum.
Price: $75 at juicebeauty.com
---
5

Avalon Organics Vitamin C Vitality Facial Serum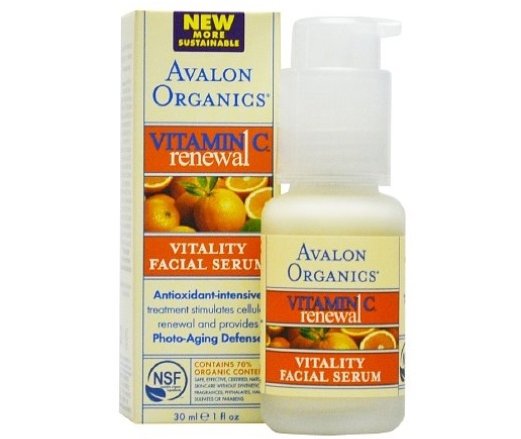 As you can see, Vitamin C is quite a popular ingredient in serums. The reason being is that vitamin C can slow the rate of free radical damage and support the production of collagen and the overall health of your skin. Avalon Organics' Vitamin C serum delivers potent anti-aging, smoothing and cellular renewal benefits in one convenient product.
Price: $25.49 at avalonorganics.com
---
6

Joanna Vargas Daily Serum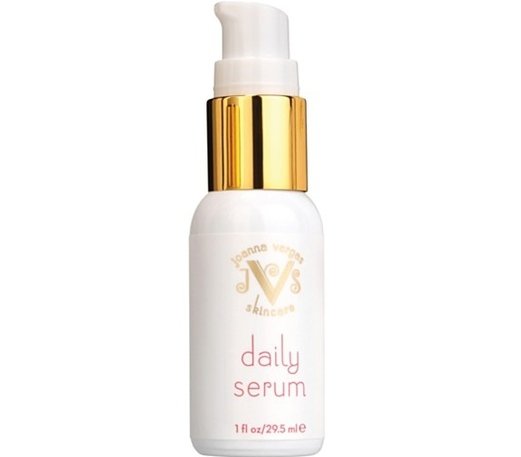 Brighten, nourish and refresh your skin every day with Joanna Vargas' Daily Serum. This natural serum is jam-packed with vitamins and antioxidants to provide facial skin with lasting hydration, brightened skin and a more even skin tone that's as smooth as silk.
Price: $85 at birchbox.com
---
7

Kahina Giving Beauty Serum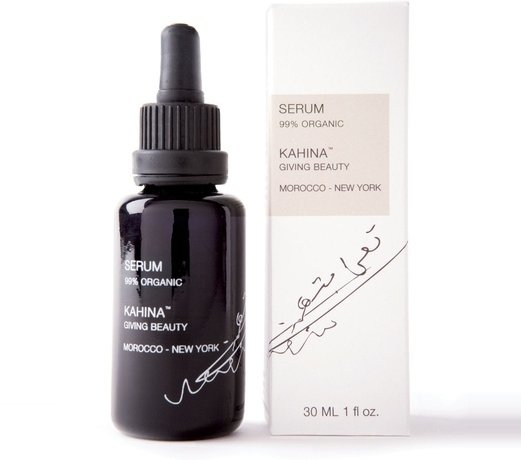 This brand was new to me, but I was quickly impressed once I researched their products. While it's on the pricey side, Kahina Giving Beauty's products are minimally processed and made with ingredients that are natural and organic which is always a plus. This facial serum repairs tissue damage, maintains moisture and soothes irritated skin while protecting it from damaging UV rays.
Price: $90 at beautybar.com
---
8

John Masters Organics Vitamin C anti-Aging Serum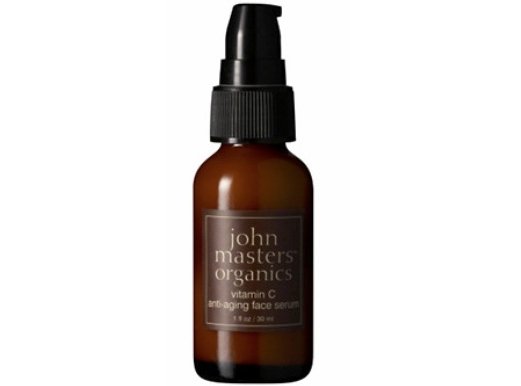 Vitamin C, sea algae, rosebud, acerola and plant phospholipids all work together to bring you intense moisture, anti-aging benefits and rejuvenation of tired, dull skin. If your skin looks stressed, give it some much-needed TLC with this nourishing and protective facial serum. With 9 certified organic ingredients, this product is a must-have for natural skin care lovers.
Price: $30 at johnmasters.com
---
9

Kiss My Face Ester C Serum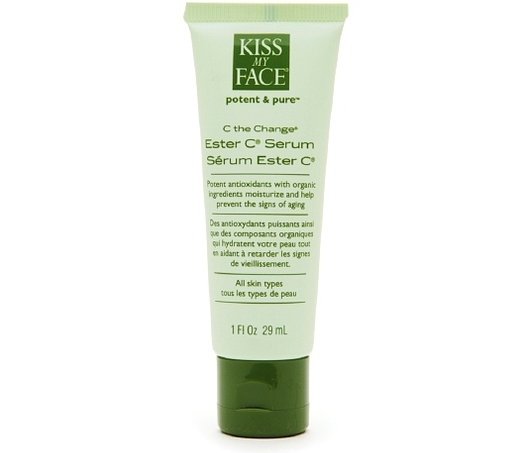 Give your face a nourishing kiss of vitamins and antioxidants to help repair and revive your skin. This potent serum promises to moisturize your skin while helping combat the signs of aging without any animal ingredients, artificial colors or fragrances.
Price: $18.99 at vitaminshoppe.com
---
10

Acure Organics Seriously Firming Facial Serum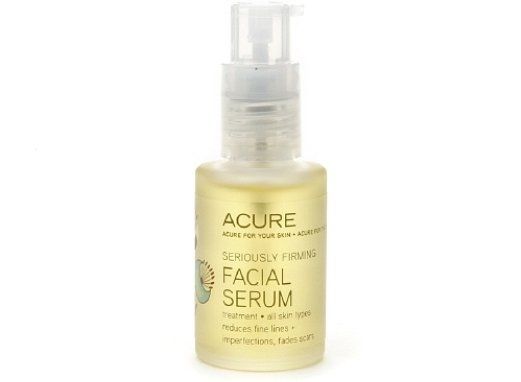 Get some serious skin care benefits from Acure Organics' Seriously Firming Facial Serum. This natural serum contains borage oil, cranberry and organic argan oil for firm, radiant skin.Perhaps the best part of this serum is that you only need a small amount to give you some amazing results!
Price: $18.47 at amazon.com
---
11

Ole Henrikson Truth Serum Vitamin C Collagen Booster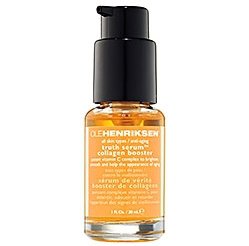 This highly rated serum is formulated with a proprietary 5-source vitamin C complex to boost collagen production, target signs of aging and leaving skin smooth, healthy and protected from environmental aggressors. Apply this over your face and neck daily for brighter, more beautiful skin.
Price: $48 at sephora.com
---
12

Korres Quercetin & Oak anti-aging, anti-wrinkle & Firming Face Serum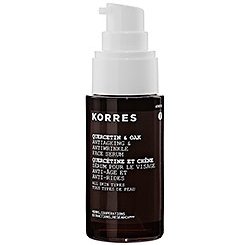 Korres' face serum utilizes the power of antioxidants, myrtle extract, Mourera Fluviatilis Extract, quercetin and Hyaluronic Acid to firm up skin, maintain moisture levels and help improve skin tone and texture. Pure and potent, this natural serum will deliver powerful anti-aging benefits minus any harmful ingredients.
Price: $62 at sephora.com
---
13

Origins Plantscription anti-Aging Serum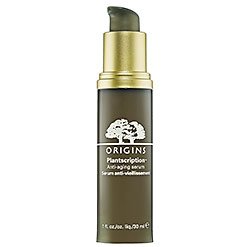 Origins' anti-aging serum is said to work wonders in as little as four weeks. Powered by plants and essential oils, this natural serum restores, rejuvenates and repairs skin. Frown lines and fine lines on your face will soon be a thing of the past with this potent anti-aging and nourishing serum.
Price: $55 at sephora.com
If you're not already using a serum, you've got to give them a try! They deliver so many awesome and unique skin care benefits that you can't achieve with other products. Do you currently use a serum? If so, which one?
More
Comments
Popular
Recent