For the most part, staying out of the sun means I've got great skin, but I'm always on the lookout for products to get rid of age spots, because even with my SPF regimen, a few pesky… let's call them "freckles" … have made an unwelcome appearance on my visage. I'm too young for age spots – and so are you! – so let's get rid of them, shall we? Here's a list of the best beauty products to get rid of age spots, without costly peels and laser treatments.
---
1

Murad Rapid Age Spot and Pigment Lightening Serum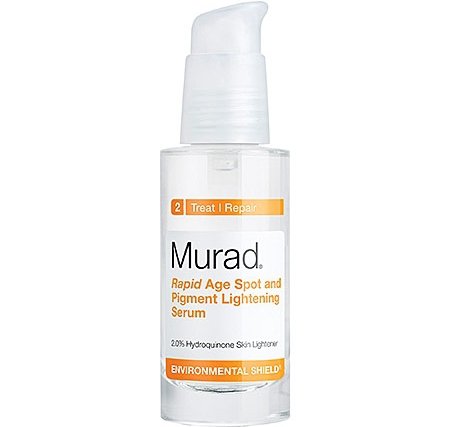 Within two weeks, Murad's miracle serum promises to banish spots, freckles, and other discolorations, and still be gentle on your skin. I've tried it myself, and it works marvelously, especially when combined with other goodies in the Murad Environmental Shield® regimen. It's also made without nasty parabens and phthalates, which is why it's landed at the tippy-top of my list of the best products to get rid of age spots, banishing the ones you have now and preventing new spots, too.
---
2

Clinique Even Better Clinical Dark Spot Corrector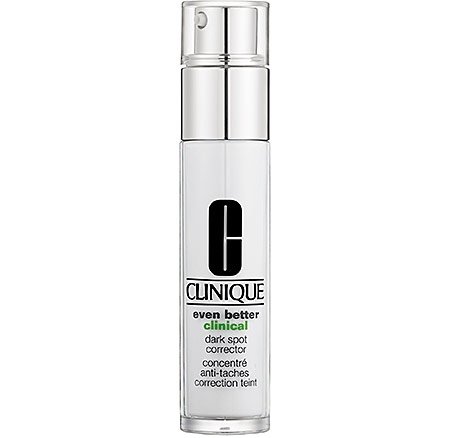 I've tried this product but was never patient enough to see results – Clinique promises you'll see a reduction in discoloration and spots in 12 weeks, and to me, that's just a very, very long time. I do have a few friends who swear by it, and use it daily, not only to fade age spots, but also acne scars and freckles. If you're a little more patient than I am, give it a go!
3

Philosophy Miracle Worker® Dark Spot Corrector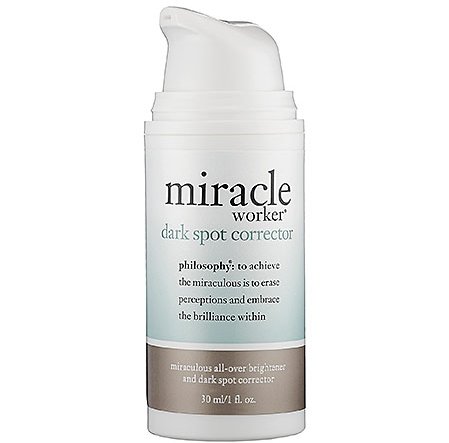 Philosophy makes my all-time favorite daily moisturizer – Hope in a Jar – so when I saw they made an age spot serum, I had to try it! And it does work, too, in as little as a month. It's also formulated without the chemicals that can irritate sensitive skin, including the latest body care "bad guys" – GMOs. The little pump container is really easy and mess-free, too.
---
4

Laura Mercier Flawless Skin Tone Perfecting Crème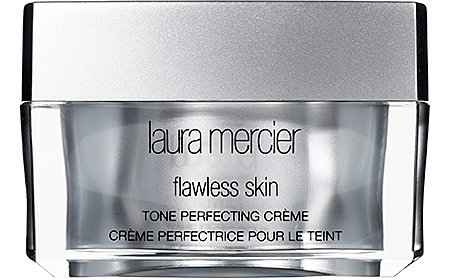 What's the secret age spot-blasting ingredient in this lush cream? The plant pigment quercetin, thought to be effective in the treatment of asthma, fibromyalgia, and even some forms of cancer. Apparently, this versatile compound also works marvelously well for diminishing dark spots and other uneven pigmentation. Amazing!
---
5

DERMAdoctor POETRY in Lotion®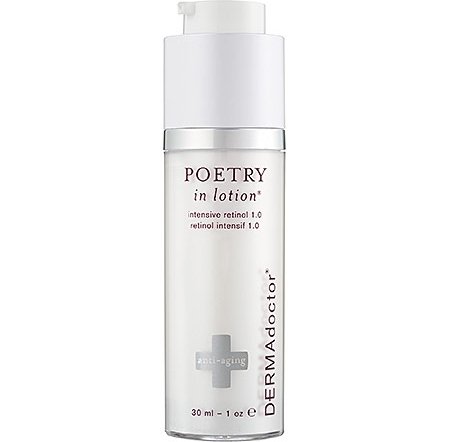 I freely admit that, being a great fan of word play, I first noticed this cream because of its clever name. I'm now also a fan of the cream itself, because the way it delivers retinol provides a slow release, gently encouraging collagen production and fading age spots, freckles, and even blotchiness. Poetry, indeed.
---
6

Clinique Even Better Dark Spot Correcting Hand Cream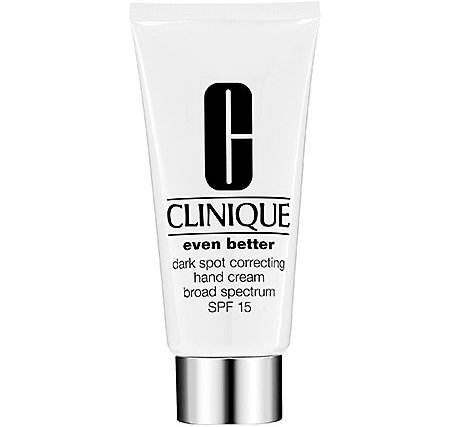 Ah, but not all age spots and discolorations are on your pretty face – don't forget your hands! This thick, non-greasy hand cream helps fight the signs of aging, including age spots, of course, and leaves your hands silky soft and looking younger than ever. It contains a UVA/UVB sunscreen to prevent further sun damage, and I even love the scent.
---
7

Origins Starting over™ Age-Erasing Moisturizer with Mimosa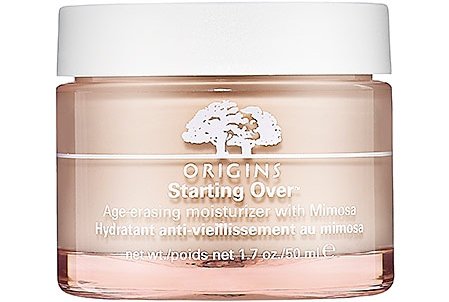 Maybe it's time for a clean slate – let's start over, getting rid of age spots and even some fine lines and wrinkles. Ah, but let's also vow not to use injectables, like botox… and what do we have left? This miracle in a jar, truly – this lush moisturizer is made with mimosa, argan leaf, and green algae to stimulate collagen production and to even skin tone, as well as fight other signs of aging, from the very first time you use it. Like everything else I've ever used from the Origins line, it's free of harmful compounds, like parabens, sulfates (which, oddly enough, have been shown to age and irritate skin!), petrochemicals, phthalates, GMOs, and triclosan.
With so many creams and serums to combat age spots and other discolorations, there's no need to live with spots you don't want. Myself, I love freckles – but they're far cuter than age spots. Which of these have you tried, and how did it work for you? Or is there another anti-aging/anti age spots product you've used and loved?
More
---
Comments
Popular
Recent