Lip balms are a beauty staple for me anytime of the year. But now that the weather is really heating up, I want to stock up on some lip balms that are perfect for summer weather! Our lips need special care, especially since we spend more time out in the sun during the summer season. Lip balms work hard to protect, soothe and moisturize our lips! Check out some of my picks for luscious lip balms that you'll want to wear all summer long!
---
1

Carmex Moisture plus Ultra Hydrating Lip Balm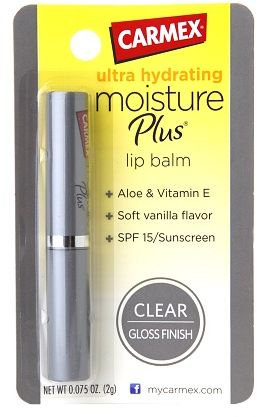 Carmex makes some of the most hydrating lip balms out there but for summer, let's try something lighter like this glossy lip balm! It has a soft vanilla fragrance, SPF 15 to keep your pucker protected and it's super hydrating. You can use this alone or under lipstick to keep your lips soft, smooth and moisturized while you're out and about! You can find this at Walmart for $2.48.
2

Eos Smooth Lip Balm Sphere in Sweet Mint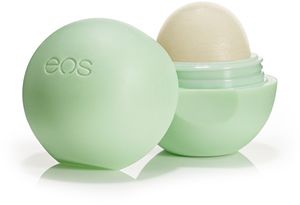 One of my all-time favorite lip care products is the eos lip balm Sweet Mint! It reminds me of a peppermint candy without being too sweet or too minty, it's perfectly mild. My only issue with this product is that it doesn't have SPF in it, but for delivering all natural moisture that's 95% organic, it's a winner! This lip balm is perfect before you go to bed or to keep in your desk at work as a back-up! Find this at Target for $2.99.
---
3

Aquaphor Lip Repair + Protect with SPF 30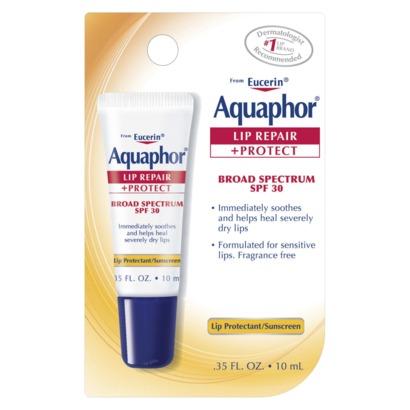 Aquaphor is one of those products that many people consider to be their beauty staple. You can use it to soothe chapped lips, use as an alternative to lip gloss, use it to soften raggedy cuticles, use it as an emergency hand lotion and even use it on your hairline to prevent hair dye from getting on your skin! Aside from all that, this particular tube has SPF 30 and will soothe and smooth lips! Find this at most drugstores for $4.99.
---
4

Dior Crème De Rose Smoothing Plumping Lip Balm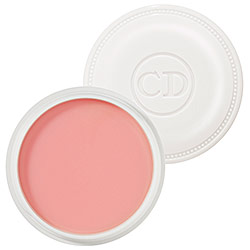 This lip balm is ideal for toting along when you go on your summer adventures! This not only smooths and hydrates your lips but it also plumps them up so you don't have to wear some crazy lip gloss that's spiked with spices to achieve that pretty pout! It also contains SPF 10 and smells like roses, so your lips will be the picture of perfection! Get it at Sephora for $27.
---
5

Lavanila the Healthy Lip Screen SPF 30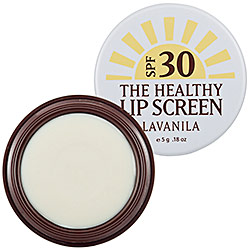 I am obsessed with shea butter lip care products but a lot of them don't contain SPF so I usually only use them at night. Lucky for me, I came across this lip screen that contains shea butter, peppermint and vanilla oils, natural titanium dioxide and zinc oxide, so you've got long lasting moisture, protection from the sun and all natural goodness all in one! Buy it at Sephora for $16.
6

Yu Be Lip Therapy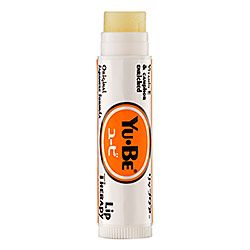 This glycerin-based lip balm is great to use after your lips took a beating in the harsh weather. If your lips got dry, chapped or wind-burned from outdoor activities, this is the ultimate lip balm to help repair and replenish your lips! It's all natural and contains camphor, glycerin and vitamin E to help restore lost moisture and soften lips. Keep this in your beach bag so you can combat chapped, dry lips on the go! Find it at Sephora for $5.
---
7

Banana Boat Sport Performance Lip Balm SPF 50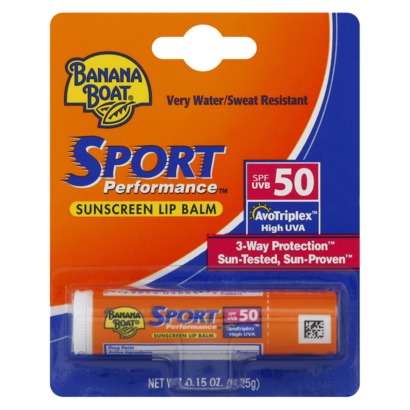 Last but not least, if you're looking for a hard working lip balm that will outlast all the fun in the sun and then some, this is it! You've got your SPF 50, broad spectrum protection, water and sweat resistant, long-lasting and sheer. You've gotta love the fact that it can do all that and still remain lightweight! Who wants to wear a thick, pasty lip balm when you're out having fun?! Find this at drugstore.com for $2.54.
I think lip balms are the perfect summer accessory. They keep your lips soft and moist, shield your lips from the damaging rays of the sun and even come in different finishes and colors so you can use them in lieu of lip products. Don't let the weather get the best of your lips, keep them pretty and protected by using a quality lip balm. What's your favorite lip balm to use in the summer?
---
Comments
Popular
Related
Recent